20 décembre 2021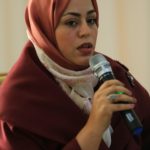 Faiza Al Hamdi
A 28-year old mother of three children, has been elected to the municipal council, in Zolton, since 2014. After studying Law and International Relations, Faiza started looking for a job, in 2012, while also being active in civil society. When it was time for the municipal elections in 2013, Faiza's father, a civil servant, encouraged her to run for the seat reserved for women.
"No woman ran in the elections in my commune. However, I had all of the support of my family and friends to run as a candidate. So I had this responsibility to represent all the women in my community. But, that was not all. My responsibility was to push for a mindset change.
Once on the municipal council, I have become committed to a gender perspective. My dream was to create a center dedicated for women and children. I proposed the idea to the municipal council which immediately agreed to make it a reality. But, due to a lack of resources, we dedicated only one room to the women and children of Zolton with few regular activities. When I met Dr. Neila Akrimi, president of CILG-VNG International, and told her about my project, she was immediately supportive. The VNG has therefore provided the necessary means to create the center and furnish it with all what is needed. Now women in Zolton have a social place where they can spend time, follow pieces of training on their rights, and build their capacities in different fields. We have also made available to children with special needs specialized doctors as well as activities appropriate to their needs.
With regard to challenges, I believe that the center urgently needs to train its staff to meet the needs of women and children especially those with specific needs. »